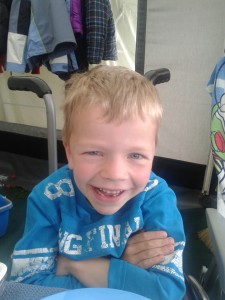 This site is about Thomas Lutters a happy and active boy, born September 8, 2007. Thomas is recognizable by its friendly snout and his infectious smile. In the summer of 2011, Thomas received the first complaints, he had pain in his knee and ran hard. After a number of studies came to be. The life of Thomas and his family all the way to the head Thomas-childhood neuroblastoma metastases.
What next? The specialists in the Netherlands pulling out all the stops to overcome them. Severe form of child However, in America developed a new therapy that increases the chance of recovery. To make this opportunity possible had to be raised funds, hence the establishment of the Foundation for Future Thomas. Through the foundation, family, friends, acquaintances and even strangers there are numerous actions and initiatives to make the trip. Possible to America
In May 2012 the time had come, the Lutters family moved to America with the hope of a cure. The treatments pitched well above expectations and Thomas did very well. So good that Thomas early August 2012 was 'clean'. Unfortunately this was short-lived happiness, mid-November 2012 unexpectedly came the shocking news: Neuroblastoma is back. There is no more hope for miracles, the bag of tricks is empty …
On behalf of the Family Lutters and the foundation we want to thank everyone for all the dedication, support, compassion and kind words they have received.
We wish Joan, Charlotte, Jasper, Michael and especially Thomas much strength for the coming difficult period.
On the blog of this site you can read how it goes with Thomas.